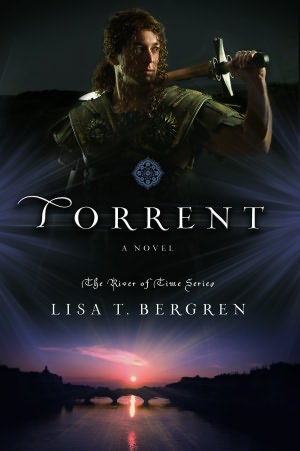 Title: Torrent
Author: Lisa T. Bergren
Published: 2011 by David C. Cook
Version: Paperback
Obtained: Library
Gabriella and Evangelia Betarrini are just two normal American teenagers. Normal except for the fact that they time travel to fourteenth-century Italy, where they've lived in castles they've seen as crumbling ruins, become swept up in historic battles, and fallen in love with handsome knights willing to do anything to keep them alive.

They've returned to the present to save their father, just short of his tragic death, and now all four return to the place that holds the girls' hearts, medieval Italy. But remaining there means facing great risk as the battle for territory wages on and the coming Black Plague looms. Can they convince their parents to stay and leave behind everything they've worked so hard to accomplish? And will the girls sacrifice their futures in an uncertain past? Or in facing death head-on, will they discover life as it was always meant to be lived?
First Sentence:
"We'd shaken the dust from the gowns the guys had left the three of us and slipped on our 'medieval disguises,' as I called them, but there wasn't a whole lot we could do for Dad."
---
These books just kept getting better and better. Epicness, adventure, romance, conflicted emotions, almost weddings, weddings, kidnappings, ETC. Seriously, how could you NOT like these books? They are just full of awesome things.
I REALLY need Lisa T. Bergren to write more books around these characters. I would love reading from Lia's perspective. Also, a character I'm really loving is Lord Greco, he's just so conflicted and HOT. Grrr. I love him.
Anywho, I love this series so much, and this book ended the trilogy very well.
Content Warnings: Kissing.
Rating:


FOR THE WHOLE SERIES, I LOVE YOU!!
---------- END OF BOOK REVEW. ON TO OTHER THINGS!!! ----------
I just got back from a trip to Europe (which is why I haven't blogged in awhile) and I got to go to Florence! Which all of you who read this series will know is the city of Firenze! The entire time we were strolling along streets and walking through the plazas, I kept thinking about these books and the scenes in Firenze. :) I love that I got to go there so soon after finishing this series!!!!!!!!!!
Some pictures from my visit:
Now that I have made everyone suitably jealous, I will depart.
I apologize once again for being a blog-writing-procrastinator.