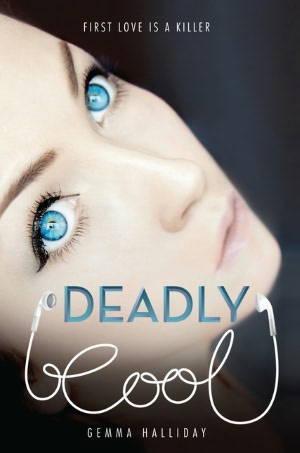 Title: Deadly Cool
Author: Gemma Halliday
Series: Deadly Cool #1
Published: 2011 by HarperTeen
Version: Paperback
Obtained: Library
Hartley Grace Featherstone is having a very bad day. First she finds out that her boyfriend is cheating on her with the president of the Herbert Hoover High School Chastity Club. Then he's pegged as the #1 suspect in a murder. And if that weren't enough, now he's depending on Hartley to clear his name.
But as much as Hartley wouldn't mind seeing him squirm, she knows he's innocent, and she's the only one who can help him. Along with her best friend, Sam, and the school's resident Bad Boy, Chase, Hartley starts investigating on her own. But as the dead bodies begin to pile up, the mystery deepens, the suspects multiply, and Hartley begins to fear that she may be the killer's next victim.
First Sentence:
"There are three things you never want to find in your boyfriend's locker: a sweaty jockstrap, a D minus on last week's history test, and an empty condom wrapper."
---
I'm a huge mystery fan. It was always a goal of mine to read all the yellow hardcover Nancy Drew books (I think I'm still missing two). Anyways, this series is a modern day Nancy Drew series. But instead of being naturally curious, Hartley is haphazardly thrown into this world of amateur crime investigation.
Throughout all of her investigation attempts, all on the down-low, Hartley remains hilariously upbeat. She's literally living a horror movie, but the story comes across as humorous with great side characters, like her best friend Samantha (Sam) and her new acquaintance, Chase.
Although I probably should have figured out the culprit quickly, I didn't. Not only is the mystery difficult, but it's SO ADDICTING! I read this in one day because I could NOT stop reading.
The sequel is Social Suicide, and it's equally perfect. This is just a fantastic series, so go read them if you love murder mysteries and hilarity.
---
Content Warning: Language