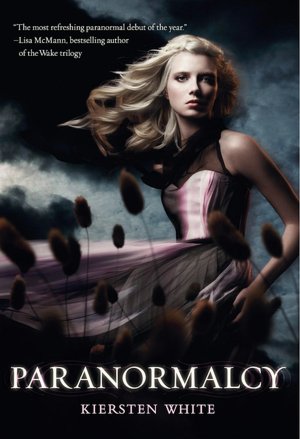 Title: Paranormalcy
Author: Kiersten White
Published: 2010 by HarperCollins Publishing
Version: Paperback
Obtained: Bought
Weird as it is working for the International Paranormal Containment Agency, Evie's always thought of herself as normal. Sure, her best friend is a mermaid, her ex-boyfriend is a faerie, she's falling for a shape-shifter, and she's the only person who can see through paranormals' glamours, but still. Normal.
Only now paranormals are dying, and Evie's dreams are filled with haunting voices and mysterious prophecies. She soon realizes that there may be a link between her abilities and the sudden rash of deaths. Not only that, but she may very well be at the center of a dark faerie prophecy promising destruction to all paranormal creatures.
So much for normal.
First Sentence:
"'Wait – did you – You just yawned!' The vampire's arms, raised over his head in the classic Dracula pose, dropped to his sides."
---
Wow. I just finished this today. After picking it up yesterday evening. I canNOT believe how much I loved it!!! I sort of thought I was sick of all this paranormal stuff, but this book is AMAZING.
First off, I would just like to mention that the cover kind of totally misled me. I thought it would be all dramatic and dark and mysterious, full of brooding and angst.
WHICH IS WHY, I did NOT want to get it. Then I picked it up, read the back, and realized that it sounded kind of awesome, so I bought it. NO REGRETS!!!!!!
Evie has lived her life in the IPCA, for which she goes on missions to identify and then capture paranormals (werewolves, vampires, hags, trolls, etc.). She's quite bored of being there, and desperately wishes she could have a normal life, one like the students on Easton Heights, her favorite high school drama show. Suddenly her life gets turned around by the entrance of Lend, a shape-shifter (even though NO ONE ever refers to him as that in the entire book), and the knowledge of something evil attacking the paranormals, and she thinks it might have something to do with her.
Things I loved:
The pacing.
I just KEPT READING! There was never a dull moment, and I was just swept away into Evie's life.
Evie.
Her love for pink completely overshadows mine, her sassy and energetic personality was refreshing and entertaining, and her emotions always made sense. I never felt like she wasn't real, like she was just heading off in some direction I never saw coming. The character was consistent, but dynamic. So different from the typical paranormal-genre heroine. (She almost reminded me of a more girly Sophie, from the Hex Hall trilogy)
Lend.
Seriously. ONCE AGAIN. Can we talk about how great it is to have a nice, happy, slightly awkward, reassuring, GOOD guy as the love interest? I mean, him and Evie were just so stinkin' cute together! I love it!!! And their "powers" work SO WELL with each other.
The bad guys were legit bad guys. Like, I was sitting here worried for the characters and worried about this "Fire-Girl" coming for them all. The fairies completely gave me the creeps and I was right with Evie in NEVER trusting them.
I just….I loved it.
I've already requested Supernaturally from my library, and I can't wait to jump back into Evie's world.
---
Content Warnings:
NO CURSING!!! Another blessing!! They just said "bleep" instead, it was a bit of an inside joke. There was kissing and that's about it!
Rating:


I'M GIVIN' IT A FIVE!!! I can't really pinpoint anything I didn't like. It was Great!!!